Class of 1978
Ben Hogan
Professional Player
Biography
The youngest of the great golfing triumvirate born in 1912 that included Byron Nelson and Sam Snead, Ben Hogan was born in Dublin on August 12th and grew up in the caddy yard. He used to have to shag balls for the older caddies because he could not match their distance with his cross-handed grip. Pro Ted Longworth saw something in Hogan that was unmatched by the others, and in 1926 Longworth began to help Hogan. The lessons began with a grip change. Hogan would go on to win 62 tournaments, nine of those major championships, including four U.S. Opens.
During Hogan's prime years of 1938 through 1959, he won 63 professional golf tournaments despite the interruption of his career by World War II and a near-fatal car accident in 1949. Hogan served in the U.S. Army Air Forces from March 1943 to June 1945; he was stationed locally at Fort Worth and became a utility pilot with the rank of lieutenant.
Hogan's watershed 1953 season, a year in which he won five of the six tournaments he entered, including three major championships, is a feat known as the Triple Crown of Golf. It still stands among the greatest single seasons in the history of professional golf. Hogan, 40, was unable to enter—and possibly win—the 1953 PGA Championship (to complete the Grand Slam) because its play (July 1–7) overlapped the play of The Open at Carnoustie (July 6–10), which he won. It was the only time that a golfer had won three major professional championships in a year until Tiger Woods won the final three majors in 2000 (and the first in 2001).
Hogan's nine career professional major championships tie him with Gary Player for fourth all-time, trailing only Jack Nicklaus (18), Tiger Woods (15) and Walter Hagen (11). He is one of only five players to have won all four majors: the Masters Tournament, The Open Championship (despite only playing once), the U.S. Open, and the PGA Championship. The other four are Nicklaus, Woods, Player, and Gene Sarazen; Hogan's first major win came at age 34.
He established his own club manufacturing company in 1953. The Ben Hogan Company was also involved with starting professional golf's second tour, The Ben Hogan Tour, now known as The Korn Ferry Tour, a proving ground for the future PGA tour pros.
The Ben Hogan Museum, located in Hogan's childhood hometown of Dublin, Texas, pays homage to the legendary golfer—the boy, the businessman, the golfer. It highlights his early experiences and their resulting impact on his private and professional life. As the son of the local blacksmith, Hogan learned from an early age the way metal could be forged to best accomplish specific tasks. He is thought to have used that knowledge to his advantage, later in life, as he went on to design and manufacture optimum golf equipment.
When Ben Hogan passed away on July 25, 1997 a prominent golf commentator remarked, "We've lost our unicorn."
Career Highlights
62 PGA Tour Victories
9 Major Championship wins
Second player to complete the career Grand Slam
World Golf Hall of Fame inaugural class 1974
1976 Bob Jones Award winner, the USGA's highest honor
4 Ryder Cup Teams: Playing Captain 1947, Player 1951, Non-Playing Captain 1949, 1967.
38th in ESPN's 50 Greatest Athletes of the 20th Century
3-time Vardon Trophy winner for scoring average 1940, 1941, 1948.
1953 Hickok Belt as the top professional athlete of the year in the United States.
The Ben Hogan Award is given annually by the Golf Writers Association of America to a golfer who has stayed active in golf despite a physical handicap or serious illness. The first winner was fellow Texas Golf Hall of Fame member, Babe Zaharias.
The Ben Hogan Award is given by Friends of Golf and the Golf Coaches Association of America to the best college golf player since 1990.
Roots in Rough Ground
Ben Hogan, the titan of golf, was born in 1912 in Stephenville, Texas, to a simple family with meager means. As the youngest of three children in a blacksmith's home, little could predict the extraordinary journey he would undertake in the world of golf. But tragedy marred his early life. At just nine years old, Hogan was devastated by the heart-wrenching event of his father's suicide. Yet, amidst the shadows of grief and economic challenges, a ray of hope emerged. The golf course became Hogan's sanctuary—a place where the young boy could shed his sorrows and shape his destiny.
Years of Struggle and Determination
The journey from an amateur to a professional golfer was neither quick nor easy for Ben Hogan. The 1930s saw him toiling, often for little reward, on the PGA Tour. His talent was evident, but his financial struggles cast doubts on his professional aspirations. Paychecks were lean, and victories eluded him. But instead of succumbing to despair, Hogan undertook a self-reflective analysis of his game, perfecting every nuance of his swing. By the time the 1940s dawned, his perseverance began to bear fruit, and the golf world started recognizing the makings of a champion in him.
The Phoenix Rises
In 1949, as Hogan's career trajectory was sharply on the ascent, a devastating car accident threatened to eclipse his brightening star. The crash left him with severe injuries, including a double fracture of his pelvis and a fractured collar bone. The prognosis was grim, with many speculating his golfing days were over. But Hogan's determination, perhaps forged from his early-life adversities, propelled an astonishing recovery. Less than a year later, not only did he return to the golf course, but he also clinched the U.S. Open title, marking one of the most incredible comebacks in all of sports.
1953: Year of the Hawk
The year 1953 remains etched in golfing lore predominantly because of Ben Hogan. Displaying a mastery that left spectators and competitors in awe, Hogan dominated major tournaments. He clinched the Masters, the U.S. Open, and in his only appearance, the British Open, missing out on the PGA Championship only because it clashed with the British Open. This triumphant trio of victories, often referred to as the "Hogan Slam", showcased a peak in performance that few have ever matched.
Imparting Wisdom
With the accolades of 1953 still echoing, Hogan shifted some of his focus to imparting the knowledge he had accumulated over the years. His insights into the game culminated in the 1957 publication of "Ben Hogan's Five Lessons: The Modern Fundamentals of Golf." This instructional tome encapsulated his philosophies and techniques, ensuring that his legacy would influence generations of golfers long after he left the green
Reflection and Legacy
Ben Hogan's exploits, especially those in 1953, cemented his status as a golfing legend. His journey, from the shadows of a traumatic childhood to the spotlight of the world's grandest golfing stages, serves as a testament to the power of perseverance. The "Hogan Slam" of 1953 remains a beacon of achievement, demonstrating that with passion and determination, one can overcome the most daunting of obstacles. Today, his legacy is not just that of a champion golfer but of an enduring symbol of resilience and mastery.
Deep Dive Interviews
Ben Crenshaw - Colonial & Ben Hogan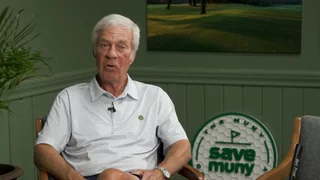 2:50
Ben Crenshaw - Colonial & Ben Hogan
4:03
Lee Trevino - Ben Hogan
3:25
Bruce Devlin - Hogan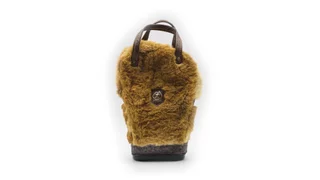 0:34
Bruce Devlin - Hogan's Shag Bag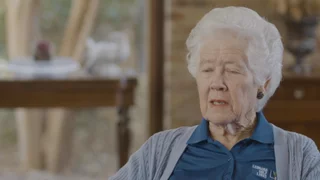 2:56
Marty Leonard - Ben Hogan
0:24
Marvin Leonard - Ben Hogan Winning Colonial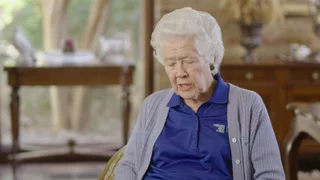 1:11
Marty Leonard - Power Golf Book by Ben Hogan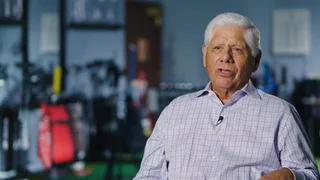 5:14
Ben Hogan's Grip & Tweaking Your Game
0:58
Marty Leonard - Golf Club Style Pin
Select Artifacts
Scenes from Hogan's terrifying car crash
Marvin presenting Ben Hogan with the Leonard Trophy
Celebrating a U.S. Open victory
Champions Dinner at the Masters
"The Hogan Slam"
Marvin Leonard with Valarie Hogan, Glenn Ford, and Ben Hogan at the premiere of "Follow The Sun"
Ben Hogan hoisting the Ryder Cup trophy, Champions Golf Club 1967
Marty with Ben Hogan at Shady Oaks CC
An early photo of Jack Burke Sr. with Ben Hogan, Jug McSpaden, Byron Nelson, and Jimmy Demaret
Marty Leonard with Ben and Valerie Hogan
A true master of the game
U.S. Open Champion 1948, 1959, 1951, 1953
The iconic swing of Ben Hogan
Marty with Ben Hogan at Shady Oaks CC
Don Addington, Ben Hogan, Dean Martin and Jerry Lewis
Byron Nelson and Ben Hogan at Brackenridge Park
The iconic 1-iron at Merion
Ryder Cup Champions
Burke Jr. and Ben Hogan
Burke Jr. swings away as Hogan watches
A gathering of Masters Champions
Old Brack playing host to the greats, Ben Hogan and Byron Nelson
Fanfare for Hogan at a parade in NYC
Ben Hogan's Five Lessons: The Modern Fundamentals of Golf
Don Addington, Ben Hogan, Dean Martin and Jerry Lewis
This exhibit is generously sponsored by