Class of 1978
Lee Trevino
Professional Player
Biography
Lee Trevino is one of the most popular players in the history of the game.
When Trevino turned 17 in December 1956, he enlisted in the United States Marine Corps, and served four years as a machine gunner and was discharged in December 1960 as a corporal with the 3rd Marine Division. He spent part of his time playing golf with Marine Corps officers. After Trevino was discharged from the Marines, he went to work as a club professional in El Paso, Texas and joined the PGA Tour circuit in 1967.
He was 1971 PGA Player of the Year. He won the 1971 and 1972 British Opens and six majors overall, including two U.S. Opens and two PGA Championships. He was a winner five Vardon Trophies, recognizing the tour's scoring average leader. Lee was a member of six Ryder Cup teams, plus captaining in 1985. He was third only to Jack Nicklaus and Tom Watson in career money. He won 29 PGA tournaments in all, plus an additional 29 on the now Champions tour.
At age 50, Trevino tore up the Senior Tour, the first senior to crack the million-dollar mark in a single season. It was more money than Greg Norman, the No. 1 money winner of the PGA Tour, earned that year. He is one of two golfers to win the PGA Tour's three oldest events in the same year: The Open Championship (1860), the U.S. Open (1895), and the Canadian Open (1904). Trevino won them in 1971 and Tiger Woods in 2000.
Lee is also a member of the World Golf Hall of Fame, inducted in 1981.
Birthplace: Garland, Texas
Born: December 1, 1939
A Gentle Nudge From The Man
In 1955, Lee Trevino, who'd dropped out of school two years earlier — who was over a decade away from earning his PGA Tour card and launching his legendary career — was slinging hotdogs and Cokes at Knollwood Golf Club in Irving, Texas. His friend was a caddie, one with a keen eye. "my friend comes in — he was caddying — and he says, 'You know, there's a car out in the parking lot with spoke hubcaps. And he said, 'They'd fit your car perfect.'" His car had no hubcaps and his friend knew where he could get some. "So he takes the hubcaps and throws them in the trunk of my car," Trevino said. "And we put them on my car after we (left Knollwood), and they looked gorgeous on this '49 Ford, a baby blue car going down the street." The next day Trevino drove to work ... but forgot to remove the hubs before pulling into Knollwood's driveway. A cop on a motorcycle was waiting. "he said, 'Where'd you get those hubcaps?'" Trevino said. "And I've never been one to tell any stories, and I said, 'Sir, my friend and I borrowed them.' And he said, 'Yeah, you borrowed them in the parking lot of the club.'" The cop gave him the man's address and waited while Trevino returned the hubs and apologized. "That was the hardest job I've ever had to do," Trevino said. "And I learned a lesson there." "When I drove away, the policeman was waiting on me and he said to me, 'How old are you son?'" Trevino continued. "I said, 'Sixteen, sir.' He said, 'When are you gonna be 17?' And I said, 'In a month.' He said, 'I wanna send you to someone, and I want you to talk to him.' "And it was the recruiter for the Marine Corps." After turning 17 Trevino joined the Corps saying the Corps "was the greatest thing that ever happened to me."
The Trevino Triple
Ben Hogan had a famous Triple Crown year in 1953 while Lee Trevino had one of his own in 1971. Trevino had a remarkable string of victories during a 20-day span during that summer. He famously defeated Jack Nicklaus in an 18-hole playoff to win the 1971 U.S. Open. Two weeks later, he won the Canadian Open (his first of three). The following week won The Open Championship, becoming the first player to win those three titles in the same year. As a result Trevino was awarded the Hickok Belt as the top professional athlete of 1971. He also won Sports Illustrated magazine's "Sportsman of the Year" and was named ABC's Wide World of Sports Athlete of the Year. It would be more than 30 years before a player would match Trevino's triple crown feat. In 2000 Tiger Woods won the same three championships, though it took almost two months to accomplish.
Deep Dive Interview
Lee Trevino - David Graham
Deep dive video interview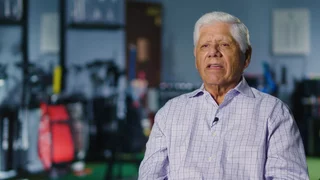 1:26
Lee Trevino - David Graham
0:49
Lee Trevino - Mildred Babe Didrikson Zaharias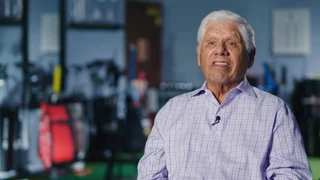 2:23
Lee Trevino - St. Jude Charity
4:45
Lee Trevino - 2023 Ryder Cup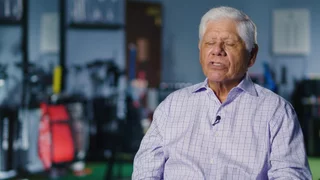 1:53
Lee Trevino - Byron Nelson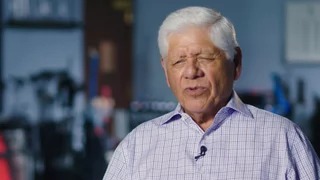 0:50
Lee Trevino - I Didn't Have Many Options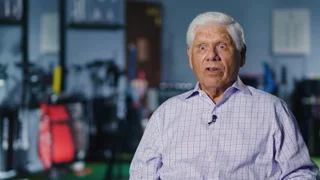 1:30
Lee Trevino - David Spec Goldman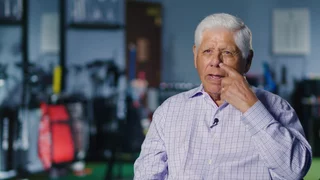 0:38
Lee Trevino - Hardy Loudermilk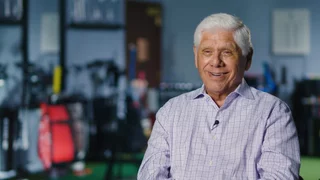 2:57
Lee Trevino - Harvey Penick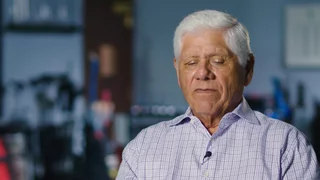 1:22
Lee Trevino - Joe Black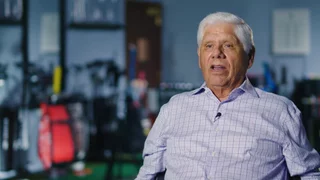 5:12
Lee Trevino - Jack Nicklaus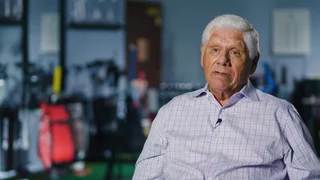 1:17
Lee Trevino - Captain of A Ryder Cup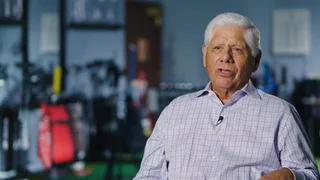 5:14
Ben Hogan's Grip & Tweaking Your Game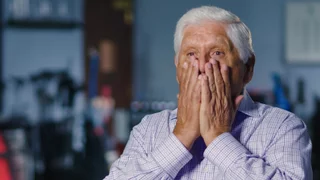 3:24
Lee Trevino - Lazy Boy Present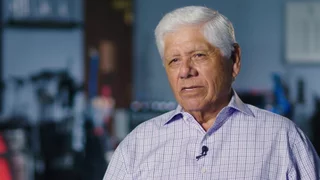 1:27
Lee Trevino - Gus Moreland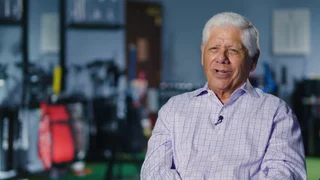 1:29
Lee Trevino - Canadian Open & Queen Elizabeth Hotel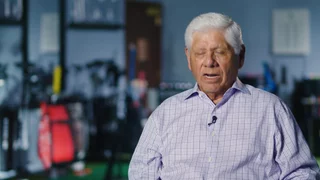 1:15
Lee Trevino - Texas Golfers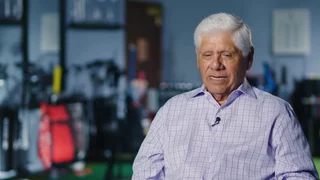 3:31
Lee Trevino - Jimmy Demaret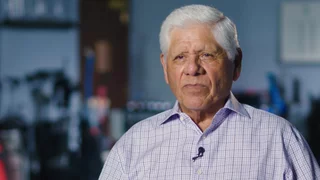 1:04
Lee Trevino - Golf Hall of Fames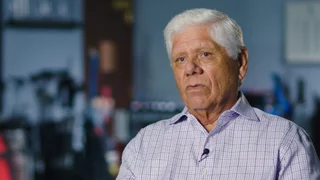 0:45
Lee Trevino - Ludvig Åberg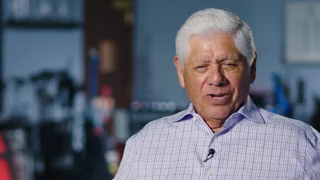 1:54
Lee Trevino - Mr. Lu Liang-huan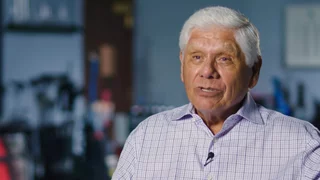 5:16
Lee Trevino - 1981 Ryder Cup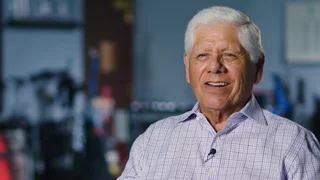 1:29
Lee Trevino - Teaching Tiger & Charlie Woods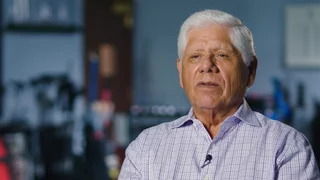 1:45
Lee Trevino - Bill Rogers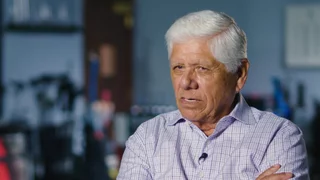 5:37
Lee Trevino - Comparing Golf Tournaments & Championships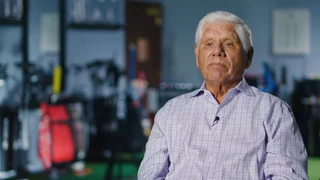 1:19
Lee Trevino - Bill Eschenbrenner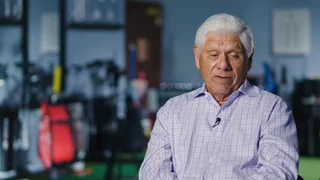 1:58
Lee Trevino - Okinawa Open
4:03
Lee Trevino - Ben Hogan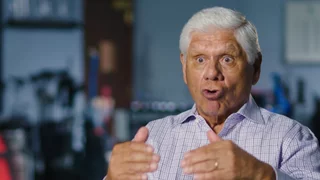 3:14
Lee Trevino - Tiger Woods & Equipment
1:07
Lee Trevino - Difficulty of Winning a Major Championship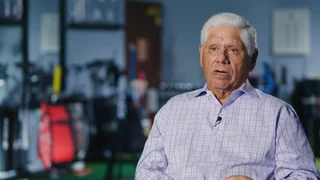 1:27
Lee Trevino - Growing Up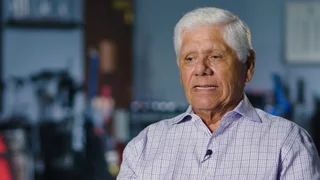 0:53
Lee Trevino - Ryder Cup & Viktor Hovland
0:48
Lee Trevino - Charity Checks
1:12
Lee Trevino - Crenshaw & Kite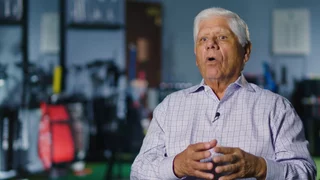 1:20
Lee Trevino - Ryder Cup Team Interactions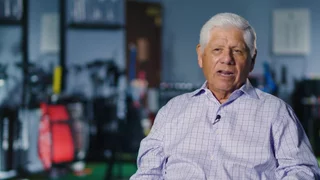 1:10
Lee Trevino - The Snake Thing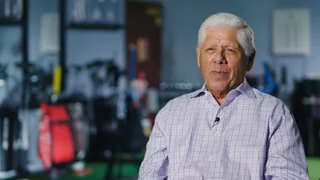 1:18
Lee Trevino - Kathy Whitworth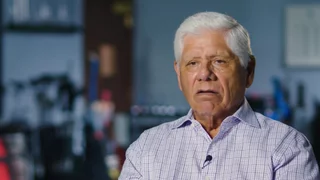 2:22
Lee Trevino - Bruce Lietzke
Select Photos
Burying a putt from long range at The British Open
Joe with Tom Watson, Lee Trevino, Jack Nicklaus and Seve Ballesteros
World Series of Golf participants on the interview stage
1971 & 1972 British Open Champion
Smiling as always
Hoisting the Claret Jug
Participants in the 1971 World Series of Golf
Tiger and Lee Trevino
Swinging away at The Open
Trevino on the cover of Golf Magazine
The iconic swing of Lee Trevino
Captain Jack Burke Jr. celebrates a Ryder Cup victory with his team
A smiling shot of young Lee Trevino
Ambassador to the game
Ladies and gentlemen, Lee Trevino