Class of 1978
Byron Nelson
Professional Player
Biography
The eldest of golf's great triumvirate born in 1912 including Ben Hogan and Sam Snead, Byron Nelson's first exposure to golf was a caddie job at the old Glen Garden course in Fort Worth. He later worked as a clerk at the Fort Worth and Denver railroad and turned pro in 1932 for the Texarkana Open. Nelson earned a lasting place in the record books as he posted 11 consecutive victories in 1945.
Nelson's streak started with the Miami Four-Ball in March of 1945 and ended at the Canadian Open in August. Nelson posted 18 victories that year and 52 in total during his illustrious career (sixth all-time). Nelson average 68.33 in 1945 but did not win the Vardon Trophy because it was not awarded due to World War II. He did, however, win the Vardon in 1939, the same year he won the U.S. Open. Nelson also won the 1940 and 1945 PGA Championships and the Masters in 1937 and 1942. He was Ryder Cup team member in 1937, 1939, and 1941.
Nelson retired officially at the relatively early age of 34 to become a rancher, buying a ranch at Roanoke, Texas. He later became a television golf commentator, during the 1960s and 1970s. In 1968, Nelson lent both his name and support to the Byron Nelson Golf Classic in Dallas; this was the first regularly held PGA Tour event to be named for a professional golfer; the tournament had been previously staged as the Dallas Open. The tournament is still named in his honor.
In 1974, Nelson received the Bob Jones Award, the highest honor given by the United States Golf Association in recognition of distinguished sportsmanship in golf, and was inducted into the World Golf Hall of Fame. He became the second recipient of the PGA Tour Lifetime Achievement Award in 1997. He received the 1994 Old Tom Morris Award from the Golf Course Superintendents Association of America, GCSAA's highest honor. Nelson was posthumously awarded the Congressional Gold Medal in 2006 after his passing on September 26th of that year.
Career Highlights
52 PGA Tour Victories
5 Major Championship Titles
U.S. Open Champion 1939
Masters Champion 1937, 1942
PGA Champion 1940, 1945
In 1945 set PGA Tour records for most victories in a season (18), most consecutive victories (11), lowest season scoring average (68.33)
Three Ryder Cup Teams: Player 1937, 1947 Non-Playing Captain 1965
Associated Press Male Athlete of the Year: 1944, 1945
Bob Jones Award: 1974
World Golf Hall of Fame: 1974
Old Tom Morris Award: 1994
PGA Tour Lifetime Achievement Award: 1997
Payne Stewart Award: 2000
Congressional Gold Medal: 2006
Man of Faith
Madge Allen Nelson and John Byron Nelson, Sr. were devout Christians and son Byron followed suit. It was the core of his identity.
Madge was a Bible student and teacher, raised a Baptist, she became a Church of Christ member at age 18. John was Presbyterian father, who was baptized in a Church of Christ soon after meeting Madge.
Byron's faith was at the center of every decision he made. Nelson was offered $500 to endorse a cigarette called 20 Grand. Never a smoker, he resisted the offer. But needing the money, he finally agreed.
"I didn't realize (that) it meant so much," he told the Chronicle. "In about a month after the ads broke, I got the worst mail I've ever gotten, from Sunday school teachers, from school teachers. … Well, I was just mortified."
When the cigarette company refused to take back its money, he said, "I toughed it out and I prayed about that more than any one thing. That shows what God will do for you. I promised him that I would never do anything like that again."
Nelson was always available to baptize new believers eager to join the church, played Santa Claus in the church Christmas program and taught a class for teenagers. rvices, either in the morning or at night. "People say, 'How in the world did you go to church?' And my answer to that is, you can do things that you feel you need to do." Several years ago, a golf fan looking for Nelson's ranch near Fort Worth stopped at the Roanoke Church of Christ and asked if the "janitor" knew how to get there. Much to the fan's surprise, the man sweeping the church floor smiled and replied, "Yes, that's where I live."
Given the nickname "Lord Byron" due to he graceful presence, Nelson was never fond of the moniker, always mindful that there is only one Lord.
After his retirement he was able to attend church services every Wednesday and Sunday saying, "I wouldn't know what to do without being at church, the good Lord blesses me every day."
After his passing Abilene Christian University President Royce Money said of Nelson, "We've lost a great man, Byron Nelson was a wonderful Christian example whose life had a profound and lasting impact on everyone he met."
A Major Champion
The manner in which Nelson won his first major championship was so noteworthy that a bridge commemorating the feat was dedicated in his honor at Augusta National Golf Club in 1958.
At the 1937 Masters Byron made cupid shots in two holes against leader and fellow Texas Golf Hall of Fame member Ralph Guldahl. On holes 12 and 13 Nelson made a birdie and an eagle, playing the holes in 5 strokes. Guldahl took five shots on the par three 12th alone. His double bogey was compounded by a bogey 6 at the 13th hole and just like that a four short lead turned into a two shot deficit.
Byron Nelson would par his final five holes and go on to win his first major championship bye two shots over Ralph Guldahl at the 1937 Masters Tournament.
1945
In 1945 Byron Nelson authored one of the greatest seasons in golf history. More wins in a season than anyone in history 18. More consecutive wins than anyone in history 11. Lowest scoring average in history 68.33. Only Bobby Jones' Grand Slam Year of 1930, Ben Hogan's Triple Crown in 1953 and the Tiger triple in 2000 are serious challenges to Nelson's 1945 seasons the greatest in history.
Nelson's run of 11 consecutive wins started in March with the Miami International Four-Ball, where he partnered Jug McSpaden. He then won 10 individual events ending with the Canadian Open in August, a streak that finished when he finished tied for fourth place in the Memphis Invitational. During this run he won the 1945 PGA Championship, the only major championship played that year. The week after the PGA Championship he missed the St. Paul Open with a back injury.
While some detractors have complained that the fields in 1945 were sparse due to World War II, however Sam Snead, Ben Hogan and others still played a full or at partial schedule that year. Snead won 6 times in 1945 while Hogan won 5 times. Nelson finished second another 7 times, and set two records that were ultimately surpassed, record 18 hole score (62), and record 72-hole score (259).
Tiger Woods referred to the year as "one of the great years in the history of the sport".
The Streak
Nelson's record of 113 consecutive cuts made is second only to Tiger Woods' 142 but in some ways it's more impressive. The PGA Tour defines a "cut" as receiving a paycheck, even if an event has no cut per se. In Nelson's era, only the top 20 in a tournament received a check. In reality, Nelson's "113 consecutive cuts made" are representative of his unequaled 113 consecutive top 20 tournament finishes.
Giving Back to Players
Nelson was renown for helping other players, professional or amateur. Harvey Ward never turned professional but his prodigious amateur career was helped by regular oversight from Byron.
Marty Fleckman was a PGA Tour player with a fine amateur record. It is unlikely he would have won on Tour if not for Nelson's mentoring.
Ken Venturi has credited Byron Nelson for his strong amateur finishes and his U.S. Open win.
And Tom Watson was sitting in the Locker Room at Winged Foot Golf Club after the 1974 U.S. Open disconsolate after having squandered the 54-hole lead and losing to Hale Irwin. Byron liked what he had seen in the young man and invited him to the ranch in Roanoke. From there the relationship grew and just more than a year later Watson would win his first of eight majors on his way to the World Golf Hall of Fame. Along the way he constantly thanked Byron Nelson for his wisdom, friendship and mentoring.
Giving Back to Community
In 1968 Byron agreed to put his name on one of the two tour stops in the Dallas Forth Worth area. For two previous decades the Dallas Open had been held sporadically but with Byron, the event's first winner, a new venue in Preston Trail Golf Club, and a powerful philanthropic arm in The Salesmanship Club of Dallas, the Byron Nelson Classic rewrote the record book in philanthropic goals for a PGA Tour event. The tournament is the leading fundraiser for charity on the PGA Tour and has raised an astounding $143 million.
For much of its history, it was the only PGA Tour stop named after a professional golfer, and remains one of only two such events, along with the Arnold Palmer Invitational.
Over the years the title sponsor names have changed but what remains is the name Byron Nelson and the might and charity of Salesmanship Club of Dallas, a marriage of ideals that serves as a guide for any sports related philanthropy.
One might ask how important a single tournament could be to a man who set so many records. Byron, himself, answered that question when he wrote in his 1993 autobiography "It has become the best thing that has ever happened to me in golf, better than winning the Masters or U.S. Open or 11 in a row," the reason: "Because it helps people."
Recognition
Byron Nelson has been the recipient of every consequential award available to a golfer. The self evident Associated Press Male Athlete of the Year: 1944, 1945.
The USGA's highest award, the 1974 Bob Jones Award in recognition of distinguished sportsmanship in golf.
He was a member of the inaugural class of World Golf Hall of Fame in 1974.
He was given the 1994 Old Tom Morris Award presented by the GCSAA to an individual who, through a continuing lifetime commitment to the game of golf, has helped to mold the welfare of the game in a manner and style exemplified by Old Tom Morris.
He was given the 1997 PGA Tour Lifetime Achievement Award honoring individuals who have made an outstanding contribution to the PGA Tour over an extended period of time through their actions on and off the golf course.
The Tour also presented him with the 2000 Payne Stewart Award given to the player whose "values align with the character, charity and sportsmanship that Stewart showed".
And in 2006 President George W. Bush posthumously presented Byron the highest civilian award in the United States, alongside the Presidential Medal of Freedom, the Congressional Gold Medal.
Deep Dive Interviews
Lee Trevino - Byron Nelson
Deep dive video interview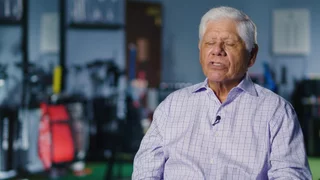 1:53
Lee Trevino - Byron Nelson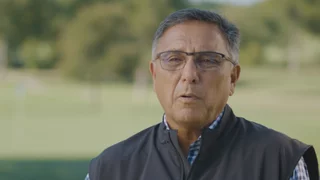 0:52
Ronny Glanton - Byron Nelson
Photo Gallery
Byron Nelson and Ben Hogan at Brackenridge Park
Maxwell (16) with Byron Nelson at an exhibition in Abilene
Tod Menefee presents award of appreciation to Byron Nelson for teaching a high school clinic
A true legend
Nelson in his prime
Nelson working with Tom Watson at the 1983 Players Championship
Ben Hogan, Byron Nelson, Arnold Palmer, Sam Snead
An iconic swing for the ages
An early photo of Jack Burke Sr. with Ben Hogan, Jug McSpaden, Byron Nelson, and Jimmy Demaret
Byron at Old Brack
Byron Nelson swings away as the gallery looks on
A young Nelson on the course
1940 PGA Championship Winner Byron Nelson
Jimmy Demaret and Byron Nelson at a USO show
Joe Black and Byron Nelson
Bryon Nelson hoisting the Wanamaker trophy. One of his two PGA Championship wins.
1945 PGA Championship winner Byron Nelson
Old Brack playing host to the greats, Ben Hogan and Byron Nelson