Class of 2013
David Graham
Professional Player
Biography
Anthony David Graham was born in Windsor, New South Wales, Australia on May 23, 1946. At the age of 13 he dropped out of school to work in a golf shop, then turned professional in 1962 at 16 years old. After almost a decade playing tournament golf in his home country he moved to Texas and spent much of his career in the United States, playing on the PGA Tour. He won events on six continents in his career, an achievement he shares with Gary Player, Hale Irwin and Bernhard Langer.
In 1976, Graham came to prominence with two wins on the PGA Tour, and then came from behind to secure a victory over the reigning champion Hale Irwin in the Piccadilly World Match Play Championship.
Graham won two major championships, the 1979 PGA Championship at Oakland Hills near Detroit, and the 1981 U.S. Open at Merion, just west of Philadelphia. Both of his major victories came in remarkable fashion. In the 1979 PGA Championship, he stood on the last tee at 7 under par for his final round and leading by two, but double-bogeyed the last hole for a 65 to drop back into a playoff with Ben Crenshaw. At each of the first two sudden-death holes he holed long putts to keep the playoff alive and finally won at the third extra hole, becoming only the fourth Australian major champion (after Jim Ferrier, Peter Thomson and Kel Nagle). At the 1981 U.S. Open, Graham shot a 67 in the final round to overturn a three-shot deficit to win by three strokes, becoming the first Australian to win a U.S. Open.
On June 27, 2004, during the final round of the Bank of America Championship on the Champions Tour, Graham collapsed over a putt on the eighth green. He was later diagnosed with congestive heart failure, ending his competitive golf career at age 58.
Graham was made a Member of the Order of Australia in 1988 and inducted into the Sport Australia Hall of Fame in 1990.
It was announced on October 16, 2014 that Graham had been elected into the World Golf Hall of Fame. His nomination was supported by Arnold Palmer and Jack Nicklaus. He was inducted with other nominees Mark O'Meara, course architect A. W. Tillinghast and Laura Davies on July 13, 2015 at the University of St Andrews, during the 2015 Open Championship.
Inductee Highlights
Major Championship Wins - 1979 PGA Championship, 1981 U.S. Open
Other PGA Tour Wins - (6) - Including 1983 Houston Open
Total Worldwide Wins - (37)
Other Honors - World Golf Hall of Fame Class of 2015
International Teams - World Cup, Dunhill Cup Nissan Cup
In 1994 David Graham captained the first ever International Presidents Cup team
Waddling Into Wattle Park
David Graham's first foray into the game of golf came as a young boy when he rode his bicycle through Melbourne, Australia's Wattle Park, a 9-hole municipal course. Curious, he stopped and looked around and was asked by the club professional, John Green, if he would like a job. David accepted, and soon fell in love with golf. He grew up playing left-handed, and even won his first tournament as a lefty. Remarkably, George Naismith, his coach and mentor, convinced him a few years later to switch to playing right-handed, and the rest is history.
A World Stage
In David's playing heyday, golf was not the global sport it has become. Travel was difficult in those days, but he wanted to develop a reputation as an international player and therefore played all over the world. In 1970, David teamed with fellow Texas Golf Hall of Famer Bruce Devlin to win the World Cup for Team Australia. Ultimately, he went on to claim tournament victories on six different continents, including wins in Australia, South Africa, France, Japan, New Zealand and the United States. That feat has been achieved by just three other golfers ever: Gary Player, Hale Irwin and Bernhard Langer.
Golden Advice from the Golden Bear and the Black Knight
Sometimes one has to stand on the shoulders of giants. David did just that, getting sage advice from some of the best to ever play. Jack Nicklaus gave him a putting tip during his first PGA TOUR win. Gary Player noted that David needed to lengthen his swing, so David practiced with a club full of lead in its shaft. And perhaps the biggest inspiration came from Nicklaus just two weeks prior to the 1979 PGA Championship. He told David it may be time to give up the game and instead work as a golf club manufacturer. David didn't immediately heed the advice. Instead, he went on to win his first major at historic Oakland Hills.
The Links, the Legends and the Legacies
To grow up in Melbourne, Australia, and become a member of the Texas Golf Hall of Fame is no short journey. They are two places separated by more than 14,000 miles. They possess very different and distinct accents. Literally a world apart. However, David has called Texas home for more than half a century, making his 2013 induction into the Texas Golf Hall of Fame, one year before he was elected into the World Golf Hall of Fame, extra special.
Keepsake: Tiny Trophy, Huge Meaning
When a golfer has won eight PGA TOUR events and 36 total professional tournaments, his trophy case is going to be rather impressive. When the wins include a couple of major championship victories, including the 1981 U.S. Open at Merion, that's even more the case. David's first-ever victory, at the 1959 Wattle Park Junior Club Championship in Melbourne, earned him a silver trophy on a black base that's less than three inches in height. While it may pale in physical comparison and stature to the 18-inch, sterling silver U.S. Open trophy, David's trophy earned at the tender age of 13 is still in his proud possession.
Deep Dive Interview
Hear more intimate stories about the career and life of 2 time major champion and World Golf Hall of Fame member David Graham
David Graham - Merion US Open
Deep Dive Video Interview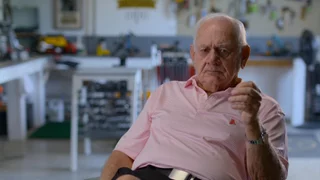 2:24
David Graham - Merion US Open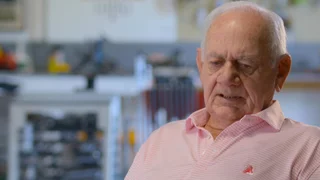 2:09
David Graham - Devlin Advice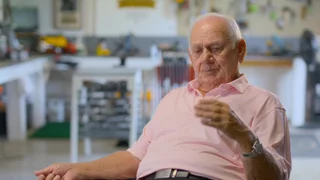 2:19
David Graham - Hale Irwin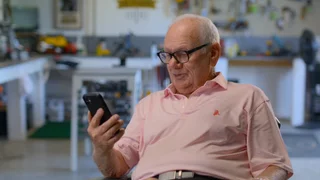 0:32
David Graham - Photo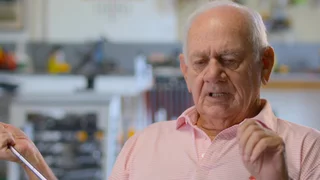 1:29
David Graham - Bullseye Putter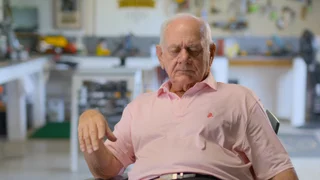 1:47
David Graham - Argentina World Cup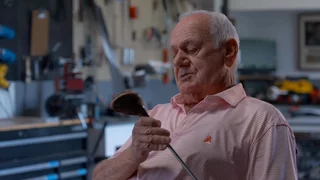 0:41
David Graham - Lead Club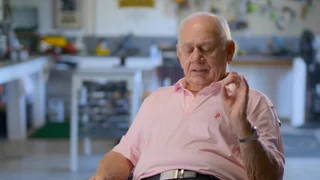 4:00
David Graham - Small Ball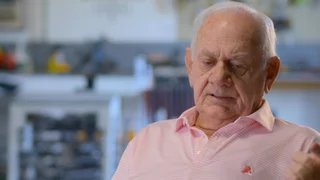 1:31
David Graham - Asian Tour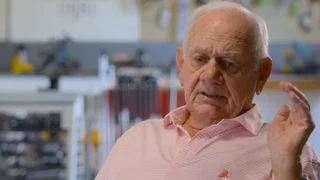 4:06
David Graham - Oakland Hills PGA Championship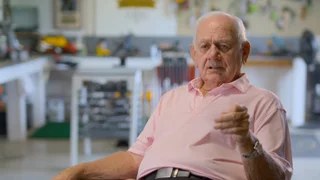 5:06
David Graham - PGA Tour Wins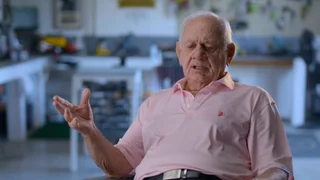 2:00
David Graham - Tasmania
1:12
David Graham - Starting Golf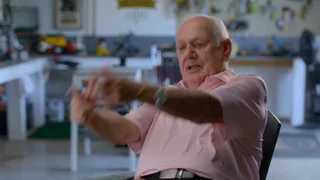 1:53
David Graham - Texas Golf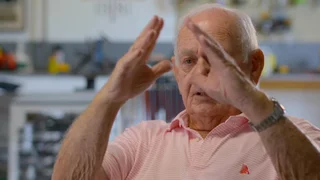 1:43
David Graham - Oakland Hills Fire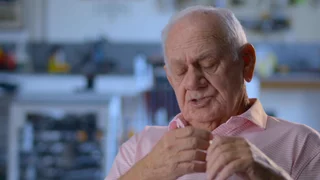 4:34
David Graham - Mentors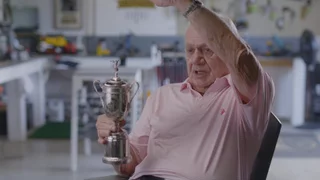 1:55
David Graham - US Open Trophy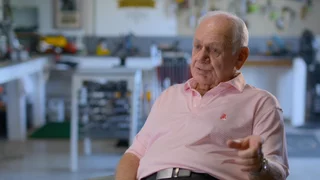 2:28
David Graham - Move To America
Selected Artifacts
Graham Building a club as a young man
2015 WGHOF Induction Trophy
With Gary Player at the 2015 World Golf Hall of Fame Induction
2013 TGHOF Induction Trophy
With Tom Kite, Lee Trevino and Jack Nicklaus at the 2015 World Golf Hall of Fame Induction
WPGC 1959 Junior Cup trophy
Letter from Australian Secretary of Order
U.S. Open Championship trophy 1981
This exhibit is generously sponsored by
Preston Trail Golf Club