Class of 2014
Bruce Devlin
Professional Player
Biography
Born on October 10, 1937 in Armidale, Australia, Bruce William Devlin was a fine Australian amateur before moving to Texas in the early 1960s and becoming a top professional golfer, sportscaster and golf course designer.
He turned professional in 1961 and joined the PGA Tour in 1962 after an amateur career in Australia which included a win at the Australian Amateur in 1959. During his PGA Tour career, he had eight victories, all of which occurred between 1964 and 1972. In 1972, he finished eighth on the money list.
On the Senior PGA Tour, Devlin won one tournament, the 1995 FHP Health Care Classic. At the end of the 1998 golf season, Devlin decided to retire from the Senior PGA Tour to concentrate on his Golf Course Architecture and Design business and his commitment to ESPN's Golf Telecasts.
The main focus of Devlin's career in the past 30 years has been his work as a Golf Course Architect and Designer. Devlin has designed and built more than 150 golf courses throughout the world including Australia, Japan, Scotland, the Bahamas, and the United States. About two-thirds of the golf courses he designed have been in Florida and Texas. Many of these courses have hosted all of the professional golf tours, including: The Houston Open, HealthSouth LPGA Classic, Key Biscayne Golf Classic, and The Nike Cleveland Open. His golf design business is based in Scottsdale, Arizona.
Devlin has also worked as a television commentator. He worked for NBC from 1977 to 1982; ESPN from 1983 to 1987; and since 1999 has occasionally covered professional golf for ESPN.
In addition to his work with The Devlin Foundation, he created Fore the Good of the Game podcast, where he and his partner, Mike Gonzales, are capturing all World Golf Hall of Fame members.
Inductee Highlights
Australian Amateur champion in 1959
8 PGA tour victories
Designed and built over 150 golf courses
Golf commentator for NBC & ESPN
An Accident That Changed Everything
Born in Armidale, Australia, in 1937, Bruce Devlin's life in golf was shaped during his teenage years when his father, Artie, lost his arm in an automobile accident. Unable to play other sports as a result, Artie became more passionate about playing golf, actually improving his 20-handicap by six strokes while playing with one arm. Artie needed a playing partner and his son, Bruce, obliged. The decision to join his father on the links proved to be a good one, as Bruce ultimately went on to claim eight PGA TOUR wins among his 30 worldwide victories and had a dozen top-10 finishes at majors, including five consecutively at the Open Championship.
From Master Plumber to The Masters
A major influence throughout his life, Bruce was following in his father's footsteps, beginning an apprenticeship as a plumber. However, Bruce's wife, Gloria, helped convince him to turn professional following his victory at the 1960 Australian Open as an amateur. His stellar amateur career, which spanned from 1957-60, also included wins at the inaugural Eisenhower Trophy in 1958 and the Australian Amateur in 1959. Instead of continuing with technical college, Bruce went on to become one of just five players ever to record a double-eagle at The Masters, when he holed a 4-wood from 248 yards on the par-5 8th hole at the 1967 tournament.
Lone Star Lore
Three of Bruce's eight career PGA TOUR wins came in the Lone Star State, as he claimed victories the 1966 Colonial National Invitation, 1969 Byron Nelson Golf Classic and 1972 Houston Open. However, Bruce also had another Texas-themed moment that proved to be a harbinger of, and possible inspiration for, the famous Roy McAvoy scene in Tin Cup. Playing for an eagle while attempting to chase down leader Tom Watson, Bruce took seven swings at a ball he hit into the water at the 72nd hole of the 1975 San Diego Open and recorded a 10 (after a one-putt). The pond in front of the 18th green at the Torrey Pines South Course has been known as "Devlin's Billabong" ever since.
Off the Course and On the Air
Fresh off two victories in 1972, Bruce retired from golf at the tender age of 35. He transitioned into a life of designing golf courses as well as golf television broadcasting. Bruce worked for NBC from 1977-82 and for ESPN from 1983-87. Ironically, in 1982 at the age of 44 and nearly a decade after retiring, Bruce held a remarkable two-shot lead after the first two rounds at the U.S. Open at Pebble Beach. Since the U.S. Open's TV contract was with ABC, Bruce played the event instead of talking about it from the booth, as he likely would have if NBC was the television partner. He wound up finishing with a share of 10th, his third lifetime top 10 at the championship.
Having His Owns Designs On Course Architecture
Bruce, who showed an interest in golf course design early in his amateur and professional playing days, went on to design over 150 courses through his golf course architecture and design business. Among his most renowned courses are Secession Golf Club in Beaufort, South Carolina, (which is his personal favorite) and the Kittocks Course at Fairmont St Andrews. His designs can be found in the United States, Australia, Japan, Scotland and the Bahamas. Included in that are nearly two dozen courses in Texas.
Building a Foundation
Bruce has stayed busy through the years and started The Devlin Foundation in 2011. A 501(c)3 organization based in The Woodlands, Texas, the foundation distributes funds to deserving organizations dedicated to promoting the game of golf to young people. The Devlin golf tournament, played annually at Secession is recognized as one of the country's Top Mid-Amateur Four Ball golf tournaments. Never one to sit still for long, Bruce also co-hosts a popular podcast entitled "FORE the Good of the Game" and is a published author with a book entitled Play Like the Devil.
Podcasting...Another Career
Bruce Devlin and his co-host Mike Gonzales created "FORE the Good of the Game" podcast. It is a golf-focused podcast that highlights the positive aspects of the game of golf and provides engaging and timeless content for listeners.
Keepsakes: Hogan's Shag Bag
A touching memento underscores the relationship between two Texas golfers born a world apart.
Keepsakes: Play Like the Devil Book
Devlin wrote a book about his life with some added golf instruction and wisdom.
Keepsakes: Masters Double Eagle Crystal
Bruce is one of only 4 people to have made a double eagle at the Masters. He holed his second shot on the par 5 eighth hole in the 1967 Masters.
Deep Dive Interview
A collection of intimate conversations with Bruce Devlin about his early life in Australia, stories about his professional playing days, and how his life has unfolded since.
Bruce Devlin - Early Days
Deep Dive Video Interview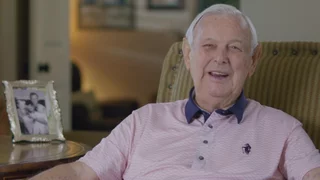 4:31
Bruce Devlin - Early Days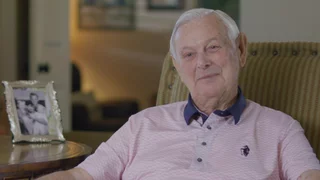 3:38
Bruce Devlin - Amateur Career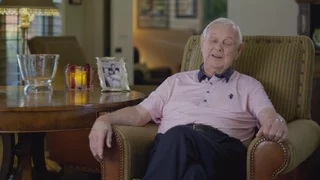 5:19
Bruce Devlin - Turning Pro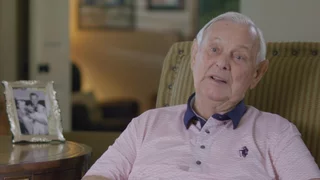 5:17
Bruce Devlin - Nicklaus & Palmer
3:25
Bruce Devlin - Hogan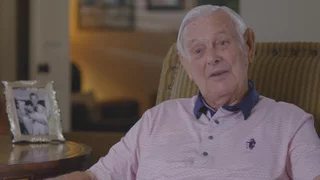 3:41
Bruce Devlin - Wins & Money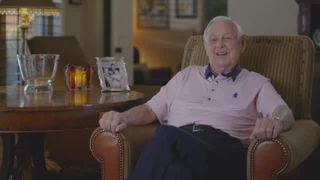 2:52
Bruce Devlin - Dean Martin & Texas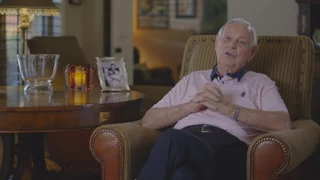 4:03
Bruce Devlin - TV Broadcasting Career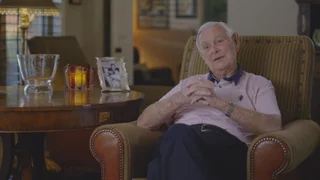 4:17
Bruce Devlin - Course Architecture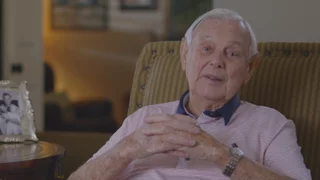 6:02
Bruce Devlin - Podcasting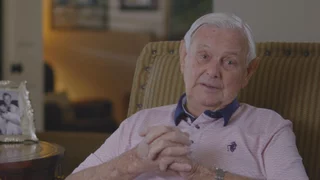 2:19
Bruce Devlin - Devlin Foundation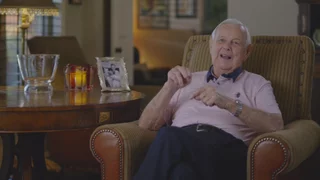 1:17
Bruce Devlin - Texas Is Home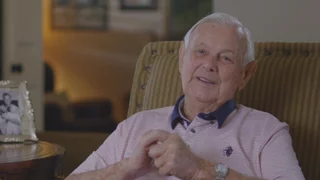 2:23
Bruce Devlin - Advice In Golf & Life
Selected Artifacts
Bruce Devlin Course Design
Bruce & Artie Devlin
1964 CBS Golf Classic Winner
Bruce Devlin Inductee Trophy
Bruce Devlin - Hogan's Shag Bag
Bruce Devlin - Double Eagle Crystal Trophy
Bruce Devlin - 1966 Colonial Invitation Champion
Bruce Devlin - 1960 Australian Open Medal
This exhibit is generously sponsored by
The Devlin Foundation
The Ben Hogan Foundation